Hey everyone! I miraculously got TWO WHOLE SALES yesterday in
my Etsy shop
, which is absolutely unprecedented in my shop. Sad, I know, but I'll take what I can get. So I thought I'd share with you some of the packaging and goodies I've included in one of the orders. Voila: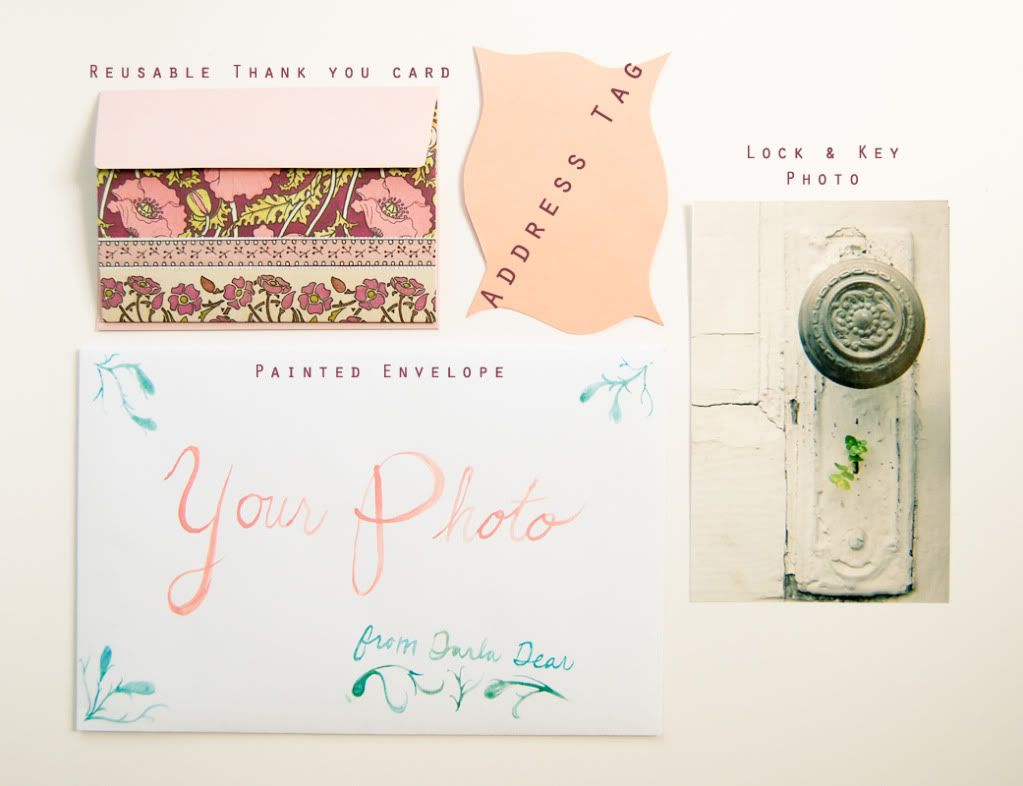 First, I quickly painted a white envelope to protect the photo. I used watercolors and just messily free-handed the text. As you can see, my "darla dear" is tilting off to one corner.
Then, I cut out a playful shape from pink paper to use as an address label. Obviously, I didn't include the address of my customer, for obvious reasons. Obviously. (I just couldn't stop typing obviously.)
I also included a pretty card, in which I wrote a quick thank you in pencil. She can erase my pencil markings, and re-use the card for whatever she likes!
I needed a bit more reinforcement, so I threw in a thick paper with watercolor paint swatches on it (not pictured here), which I made for an art class. Perhaps she can use them in a collage.
I then threw it all into a cardboard envelope (a re-purposed, previously used envelope), pasted the address label, and closed the top using white duct tape. Super simple! If I got this in the mail, I'd have a blast uncovering each little silly treasure.
As of right now, since I average about 4 sales per year, I don't have uniform packaging methods, I just use what I've got lying around. But it makes it interesting! If you know of any blog posts about packaging, or if you have some ideas, leave them in the comments!